 Wireless Dog Electric Fence - Solar Powered
---
An invisible barrier to stop your dogs disappearing!
---
---
30-Day Money Back Guarantee
An Invisible Barrier to Stop Your Dogs Disappearing
Wireless Dog Electric Fence - Starter Kit
This product is also available through Bunnings Warehouse.

Radio Collars are a popular system to keep dogs contained.

Many are impressed by how easily containment can be achieved.
Note: Wireless Dog Fence systems are sometimes called: invisible fence, hidden fence, underground fence, perimeter fence, in-ground fence & virtual fence. These systems are synonymous. Generally speaking, you cannot mix collars and boundary wire energiser between brands.
Prevent Your Dogs
Jumping, Climbing & Digging at fences.

Digging up your garden.

Escaping through an open driveway.

Running at speed to escape.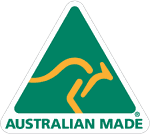 New Model for 2019
Wireless Fencing for Every Dog...
Sureguard has manufactured Wireless Dog Electric Fences in Australia since 1997. Sureguard pioneered using a digital transmission for its collars and solar power to run its boundary wire transmitter. We've utilised this advanced technology for over 20 years and we've continued to improve as electronics has advanced. Sureguard was granted two patents for innovative features you won't find elsewhere. All of this is to ensure your dogs are as safe as possible.
Do you have a small, medium or large size dog? No problem!  The Sureguard collar is small and light weight covering neck sizes from 20cm to 62cm.
Do you have a stubborn dog or a sensitive dog or somewhere in between? No problem!  The Sureguard collar automatically adjusts the correction according to your dog's behaviour. You can also set the collar correction manually to one of 10 levels.
How does the Wireless Dog Fence work?
Install the boundary wire to create the no-go area. At a preset distance the Radio Collar warns your dog to stop. If your dog ignores this opportunity to back away, then the collar emits a static correction. It is safe and humane because your dog is in control of the situation.
Is this like an electric fence? No, there is no electrified wire to touch.
Boundary Design
To create your no-go area, place the boundary wire along fences, around garden beds, across lawn areas, across open driveways and gates, etc. The boundary wire may be pegged to the ground, covered, buried or attached to a fence.
Example 1: Installation around the whole property.
Example 2: Doubled wire installation for just one side.
Installation Options
Maximum boundary wire length is 1600m.
Minimum containment area width is 10m.
Special twisted wires allows signal free areas.
No-go boundary area adjustable from about 1m to 4m wide.
Get Your Customised Quotation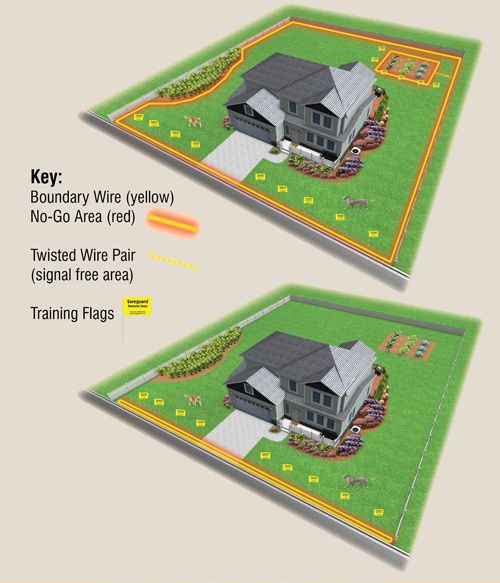 What's in the box?
Your Wireless Dog Electric Fence is supplied as a starter kit. Customise your installation by added extra components.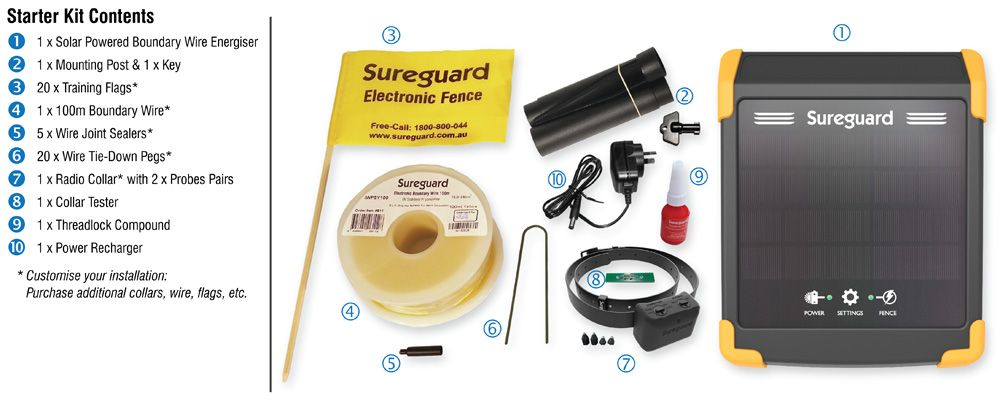 Maximum Distance Rating: 1600m (5100ft) - Call Sureguard if you need a longer distance.
Weight: 0.7kg (25oz)
Dimensions: 195mm Wide. 100mm High. 220mm Deep. (4.95" x 3.95" x 8.65").
Battery Life: 5 to 8 years, under typical operating conditions. Battery Technology LiFePO4.
Running Time in Cloud: Continuous.  Click for more details: Solar Power.  (Not suited to persistently foggy properties or snow covered panel.).
Not suitable for containment areas less than 10m wide OR long. (See this alternative: Pingg-String)
Dogs must be fit to teach. E.g. healthy and teachable.
Puppies must already be lead trained.
Puppies must be at least 6 months old.
Suitable neck sizes: 20cm-62cm.
Wear time for all brands of collar is a maximum 12 hours per day. For 24 hour containment choose this alternative: Pingg-String.
Not available for sale in S.A and A.C.T. (call Sureguard for assistance).
Not suitable for dangerous dogs.
Customer Reviews
This product has been the best I could hope for. Our dog was a stray who ended up at the pound because of his escaping ways. The fence at our property has so many holes in it that we couldn't keep him in for a minute before he was back out again. This system was relatively easy to install and has stopped our dog from escaping since day one. One very happy customer!

Ryan
I can't believe how well the fencing has worked. I now leave our two 9 mth old cavaliers to run free on our acreage. Even when turkeys and other wildlife make an appearance they will not chase them across the boundary. Installation was easy and the cost was very reasonable. I have been raving about the collars to anyone who will listen. I'd also like to thank you for your quick delivery and prompt response to my calls.

Glenys Shorter
We can't thank you enough for your wonderful worry-free dog radio collar system!!  Our german shepherd could teach houdini a thing or two about the art of escaping; nothing worked until we enstalled your radio collar system. We thoroughly recommend it to anyone who has a troublesome dog as it really works. Well done Sureguard.

Marie
Write your review
You must be logged in to post a review.