Sureguard ssScat Mat - Dummy Pet Training Mat
---
Protect bigger areas at little extra cost
---
---
30-day money-back guarantee
Express shipping available
Break Bad Habits. Develop Good Ones
Pets learn to avoid this mat on sight
The Sureguard ssScat Mat system is a pet training device used to make problem areas off-limits. It is suitable for cats, kittens, dogs and puppies.
It's incredibly versatile and can be used to quickly correct all sorts of behavioural problems, even when you're not at around.
You are ordering the non-active Dummy Mat on this page. You need to purchase an Active Mat in order to use the Dummy Mat.
Problems with pets in the wrong places?
Simply place the Sureguard ssScat Mat either on the problem area, next to that area or use the mat to create a barrier to that room.
Example: The image shows how large areas can be "fenced" economically using Dummy Mats.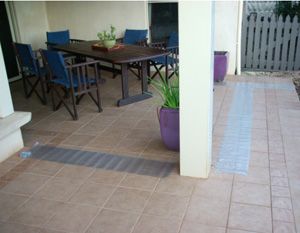 The Sureguard ssScat Mat comes in two versions:
Active Mat. This mat will correct your pet if it stands on it. see Active Mat here.
Non-Active Mat (this product page). Your pet will avoid this non-powered mat on sight provided your pet remembers the active mat.
How many to buy depends on the problem you are trying to correct. Obviously, you need at least one active mat for training. Dummy Mats are convenient and very economical so you can substitute these once your pet learns the avoidance of the active mat.
Mats can be placed side-by-side to create either longer or deeper barriers. If your pet discovers that jumping the mat avoids correction, then place two mats together to create a deeper barrier that can't be jumped. (Mat Size: 1210mm x 440mm)
In some situations, we recommend you only use active mats. For example, if your pet is jumping onto a table or kitchen counter-top, your pet can't see the mat so the Dummy Mat wouldn't be appropriate. Dummy Mats work by sight avoidance. Also, if the risk of crossing the barrier to great, for example, you're creating a barrier to restrict access to a balcony, then only use active mats.
Dummy mats work very well and the avoidance behaviour can last for months but your pet may one day simply forget and discover the Dummy Mat is non-active. If that should occur you must substitute the active mat until your pet learns to respect the mats again.
So, how many should you order? At least one active mat and one dummy mat. You may find you use the Dummy Mats extensively, which is why we have a very economical House Pack which includes an active mat and several Dummy Mats.