Scarecrow Motion Activated Sprinkler Repellent
---
A startling burst of water that scares most animals and birds.
---
---
30-day money-back guarantee
Express shipping available
Innovative - Humane - Effective
Repels most unwanted animals & birds.
How it Works
The Sureguard ScareCrow Sprinkler Repellent uses a Motion Sensor to detect the body heat of most animals and birds. Once triggered it deploys a startling burst of water combined with unexpected noise and motion creating a safe, highly effective deterrent.
It's environmentally friendly and a safe alternative to chemical repellents.
Powerful Three-Way Action:  -> Water + Noise + Motion

Protect your house, garden, pool, boat & more.
Effective against animals, including: dogs, cats, possums, deer, foxes, pigs, rabbits, wallabies, badgers, kangaroos, squirrels, wombats, raccoons, and more.
Effective birds scarer: poultry, chickens, ducks, geese, swans, pelicans, seagulls, parrots, pigeons, magpies, turkeys, brush turkeys (scrub or bush turkey), fowl and more.
Protect your plants and trees from possums.
Keep ducks out of your pool.
Keeps wallabies and deer out of your garden.
Protect your veggie bed from hungry pests.
Control stray cats and dogs.
Note: Does not work for cold-blooded animals.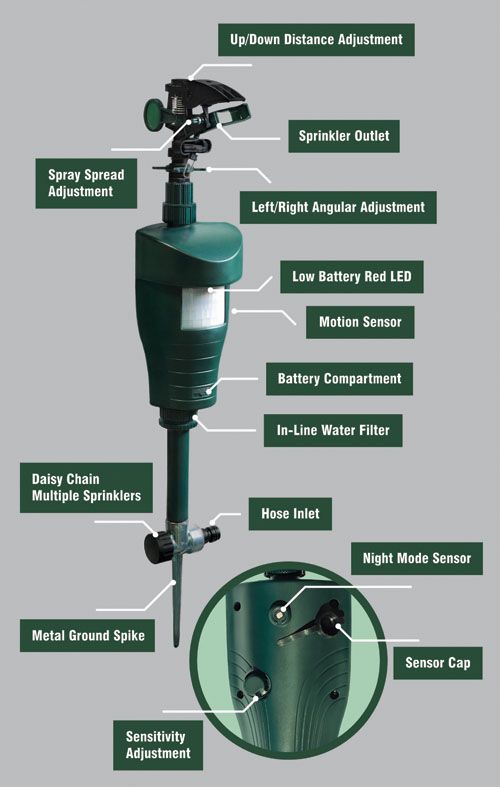 Features
Sureguard's Intelligent Sensing Technology reduces false triggering.

Very Power Efficient - Two AA Alkaline Batteries last up to 1-year.

Two User Selectable Operating Modes - 24 Hours or Night Only.

Easy to switch OFF so it won't activate.

Adjustable Sensitivity protects up to 100sq meters (approx.).

Adjustable Sprinkler Angles - Left/Right and Up/Down.

Multiple Sprinklers can be daisy-chained to extend the protected area.

Includes a Protective In-Line Water Filter.

Includes Support Post and Metal In-Ground Spike.
The Sureguard Scarecrow covers quite a wide area so, depending on your situation, you may only need one device.
If pests can enter via several areas then install Sureguard Scarecrows in each location.
If protecting a swimming pool you should install one or more Sureguard Scarecrow at either end to fully cover your pool.
Protection Area: Up to about 100 square meters.
Water Usage:  2-3 cups per Activation.
Sprinkler Distance: Up to 10m (depends on water pressure).
Sensor Left-Right Angular Range: 110 degrees.
Water Pressure: Maximum 80psi or 0.6MPa. Minimum 30psi or 0.2MPa.
Batteries: Two AA Alkaline for up to 12 months running time. (Batteries not included).
Includes a built-in low battery indicator.
Customer Reviews
If you have ducks in your pool then this is a must buy. It has been fantastic. Just wish I knew about the scarecrow a couple of years earlier.

Michael
Just magic. Easy setup and not a possum in sight since. Shall move it to the front garden for a night or two to scare of a marauding cat.

Peter
We purchased the scarecrow to keep cockatoos off our new planted garden beds. I would plant out a new area of garden - the cockatoos would notice and pull plants out, bite off flower heads etc. It was heartbreaking. We have installed scarecrow and it works brilliantly.

Tracy
This product is amazing!! Before purchasing the scarecrow we tried everything; fake snakes, owls chopped chili and sprinkled it on the pavement but nothing stopped the birds until we installed the product - we are so excited, no more ducks and no more droppings!!! Customer service was fantastic, delivered very quickly. Thank you!!.

Yana