 Portable Battery Electric Fence Energiser - Pro Tech 2
---
Pro-Tech 2 - Light-Weight Rugged IP67 Rated
---
---
30-day money-back guarantee
Express shipping available
Pro-Tech 2 Portable Electric Fence
Light-Weight Rugged IP67 Rated
Pro-Tech 2 is Australian Made - Built to last!
Features:
Tough case wrapped with elastic TPE grips to prevent slipping.
Corners are covered to reduce drop impact.
Silicone gasket high performance seals.
High voltage and high energy output for ultimate deterrence.
Bump-proof ON/OFF switch.
Contents:
Portable battery operated energiser with silicone high voltage cables and rust resistant aligator clips.
User Instructions.
Not Included:
Batteries.
Fence materials.

How Does the Electric Fence Work?
The purpose of an electric fence is to keep animals within an area or prevent undesired animals from entering. When the animal touches the Electric Fence Wire it completes an electrical circuit. The impulse passes from the wire, through the animal's body, down into the moist ground and back to the earthing electrode. The electrical impulse produces a brief muscle contraction sufficiently unpleasant to cause the animal to back off. The animal will have the strongest reaction when the ground is moist.
How do I Use the Energiser?
Install 2 AA batteries into the rear battery holder. Screw back the battery door to seal against water ingress.
Install the Electric Fence Wire at a height suitable for the animal so it will easily touch it.
Use commercially available Electric Fence Insulators or Posts to support the Electric Fence Wire.
Install an Earthing Electrode next to the Energiser into moist ground. This is a metal peg with a large conductive surface placed at least 30cm / 1ft deep.
Connect the GREEN Cable to the Earthing Electrode.
Connect the RED Cable to the Electric Fence Wire.
Switch ON the Energiser by momentarily pressing the rubber side panel  (see illustration above).
The Indicator Light flashes with each high voltage impulse to the fence together with a brief unobtrusive beep.
Place Energiser out of reach of animals.
Replace batteries when the pulse rate slows, or you occasionally hear the long buzzer tone.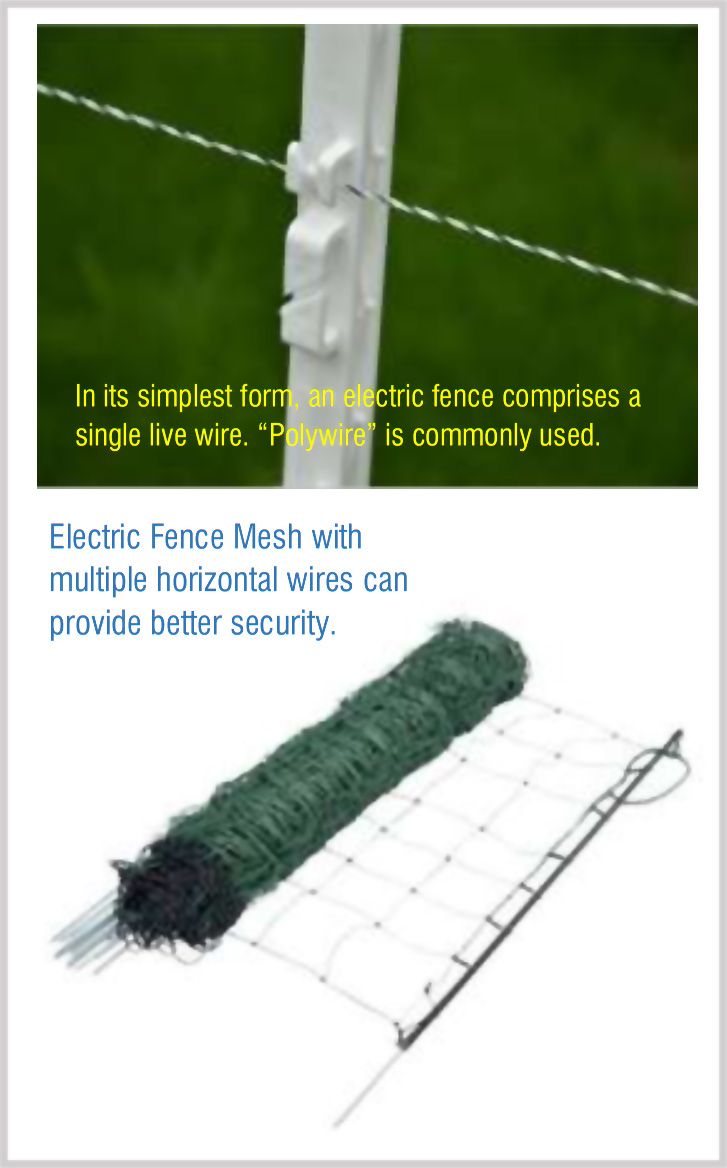 SPECIFICATIONS:

Case Dimensions:

88mm*146mm*26mm (3.4" * 5.7" * 1.0").

Weight:

Excluding batteries - 0.3kg (10.6oz).

Ingress Protection:

IP67 – Dust tight and protected from water to a depth of 1m.

Output Cables

: 1.25m (4ft) long high voltage silicone with premium rust resistant clips.

Output Voltage:

9500 volts.

Output Energy:

0.16 Joules maximum.

Stored Energy:

0.19 Joules.

Output Pulse Rate:

Constant 40 pulse per minute. (Slows when battery exhausted).

Output Pulse Duration:

Typically, 0.48 milliseconds into 10,000 ohm load.

Maximum Fence Length:

660m (2100ft) @ 5,600 volts

Battery Power:

Install two "AA" or 14500 sized batteries. (Batteries not included).

Alkaline non-rechargeable 1.5 volt.

Total running time 22 hours.

Typical battery weight, 23g (0.8oz)

Lithium non-rechargeable 1.5 volt (maximum voltage).

Total running time 54 hours.

Typical battery weight, 15g (0.5oz)

NiMH rechargeable 1.2 volt and capacity at least 2300mah.

Total running time 23 hours.

Typical battery weight, 27g (0.9oz)

Other battery types must not be installed.
Solar Powered Energizer
Silicone Cables with Corrosion-resistant Alligator Clips
User Instructions