Pingg-String Extension Kit (15m)
---
Separates the four Pingg-String wires 5cm apart.
---
---
Better by Sureguard
30-Day Money Back Guarantee

Instant Solution Cat & Possum Barrier
15m of Pingg-String Fence-Top Barrier
Use for Cats
Give your cat freedom to roam your garden.

Prevent other peoples cats entering your garden.

The most economical, inconspicuous, full garden, cat containment you'll find.
Use for Possums
Protect individual plants from possums.

Economical full yard protection.

Recommended by leading landscape gardeners.
Fence-Top Barrier
The "Fence-Top Barrier" (illustrated below) consists of four wires that are tensioned by End Posts and held apart by these Support Brackets. The End Posts are a special copyrighted design incorporating unique electrical wiring that forms part of the barrier.
The fence barrier is designed for existing fences 1.5m or higher. Once installed, it sits a maximum of 18cm above your existing fence. The barrier stops cats and possums going over the fence or possums travelling along the fence.
We recommend that you install the Pingg-String Fence Barrier along the full perimeter of your protected area. Do not leave any gaps that animals could exploit.
The Pingg-String Ground Barrier is powered by the Pingg-String Solar Energiser (sold separately).

Image Gallery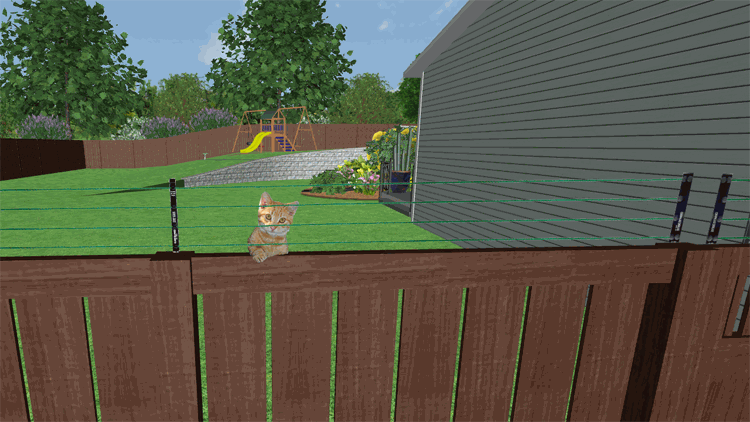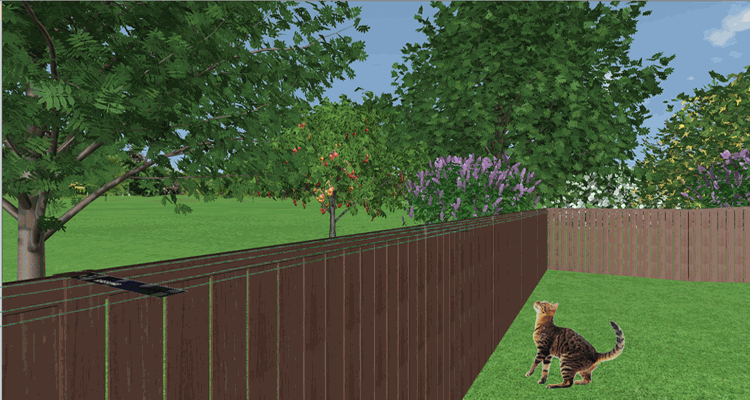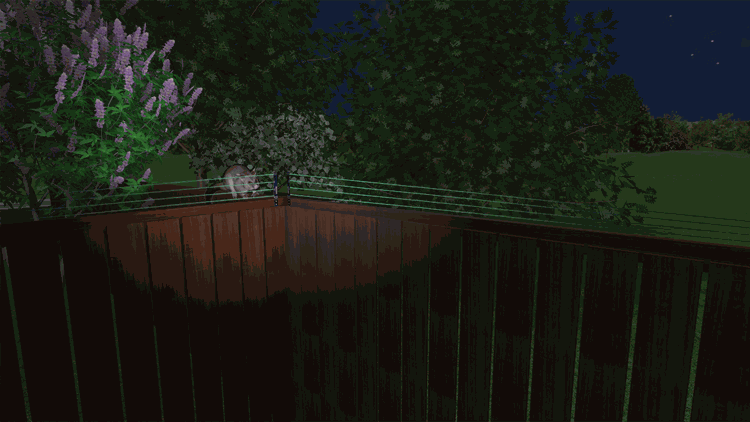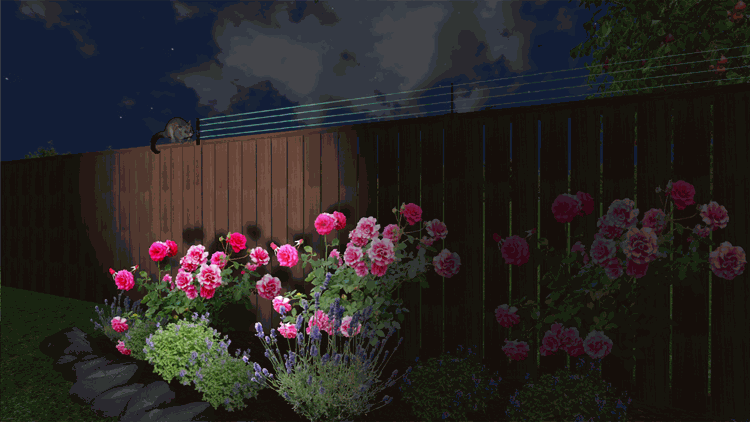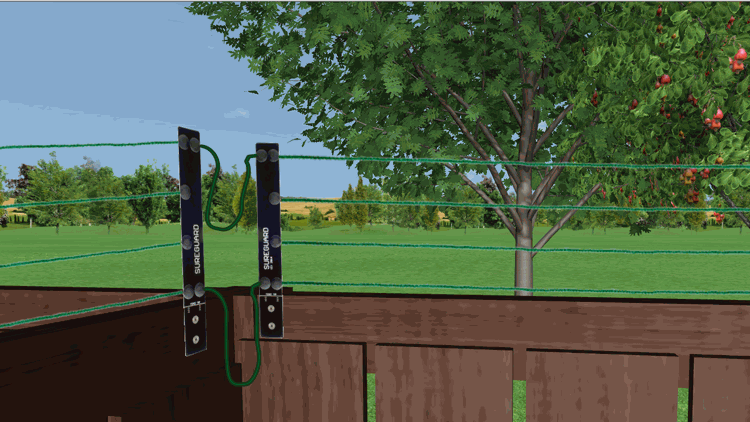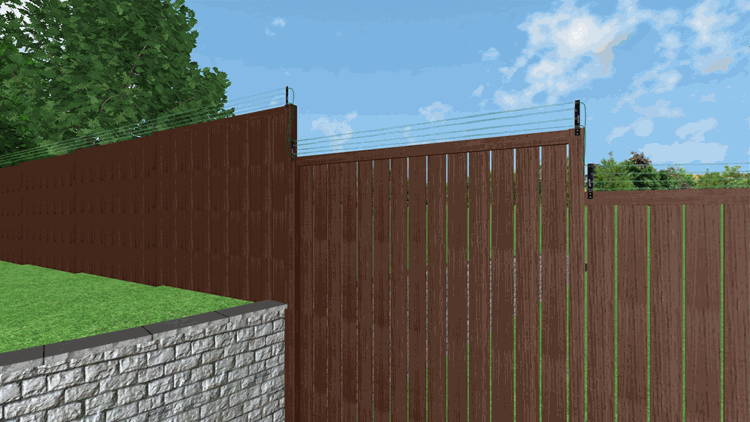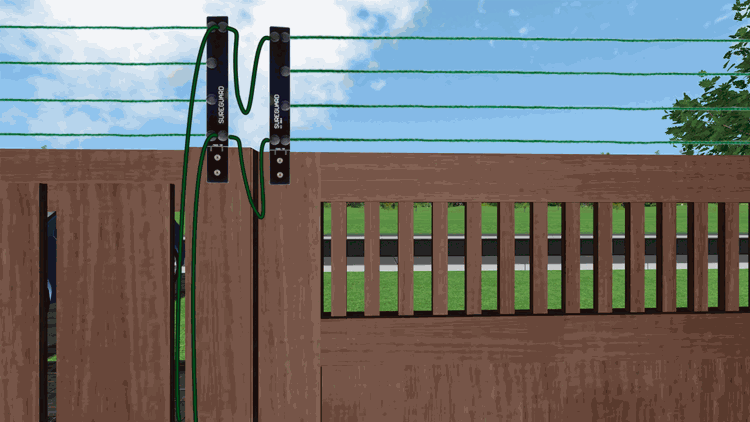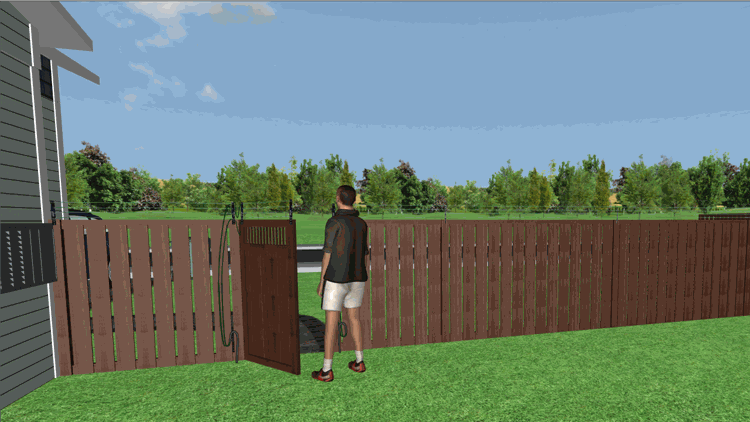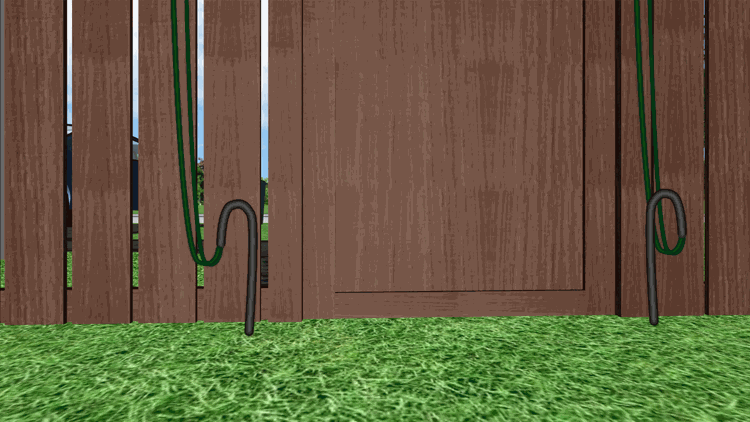 Contents
Each 15m (49ft) kit contains:
Ten (10) Support Brackets.
Forty (40) Pingg-String Wire Anchors.
One 70m (230ft) roll of Pingg-String Wire.
Pingg-String Design Flexibility
Every installation is different which is why the Pingg-String system can be ordered as components. Order your Pingg-String Energiser plus the number of End Post kits you need.
When ordering this 15m Extension Kit, measure the total distance of the barrier you want to create and make sure you order enough 15m kits to cover that distance. Maximum barrier length is 200m. To simplify your ordering, please use this CALCULATOR.
The Pingg-String Fence-Top Barrier System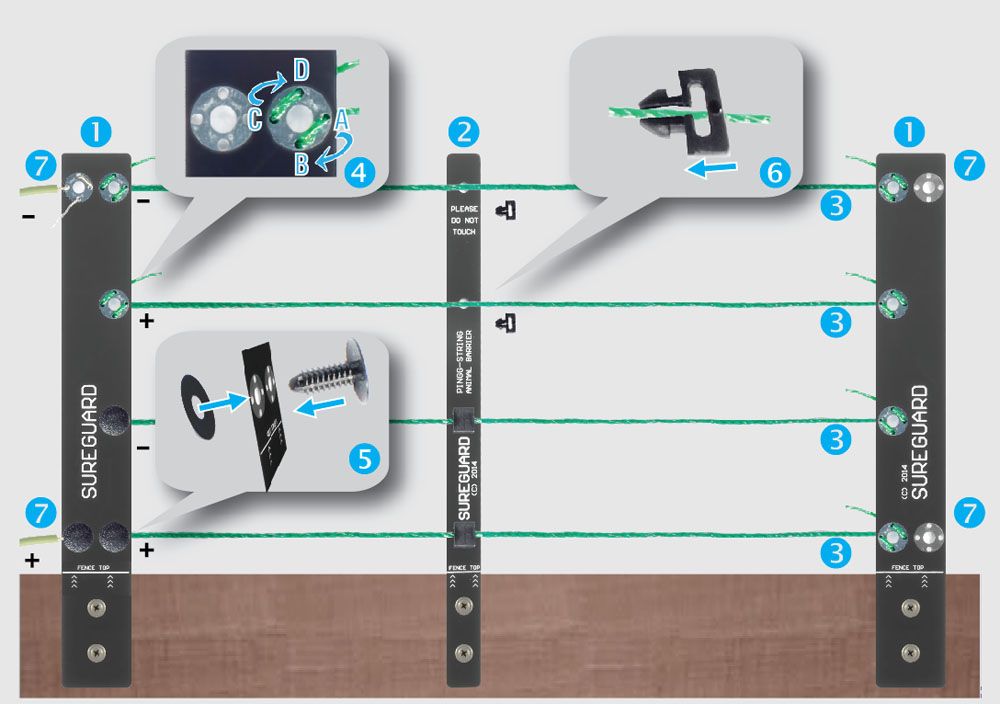 Installation Sequence
Mini fence barrier demonstration
This illustration is a mini "Fence Barrier" through which we will demonstrate the sequence of installation. It represents just one straight section of your fence. In your actual installation you will repeat this on all protected sides of your property.
Basically, you will screw the End Posts #1 and Support Brackets #2 to your fence. You'll repeat this on all other straight sections of your fence. Then install the four Pingg-Wires, as illustrated,  starting from the top wire down. Once every section is completed, they are connected to each other with a pair of insulated cables #7 so all four wires are energised by the pulse.

End Posts
These are the End Posts. Each straight section of fence will have an End Post at either end. They maintain tension in the four wires. They also connect the wires electrically through the metal discs #4 where the wires are held. Important: End Posts must be fastened to a rigid surface such as timber or metal. You decide whether to fasten these to your fence posts, top rail or the fence. Notice the printed marking "Fence Top". This is a suggested alignment point to the top of your fence. When aligned to the marker the lower wire will be 1.5cm from the fence top. You can alter this within certain limits. Note: The lowest Pingg-Wire must be no more than 3cm to 4cm above the fence.

Support Bracket
Support Brackets help keep the wires evenly separated and give physical strength to the barrier. The illustration shows one Support Bracket but you'll install several depending on the distance between the End Posts. Typical spacing is 1.5m but you can install them up to 2.4m if the length of your fence panels dictate this. You can also space them less than 1.5m if you need more physical strength.
Pingg-String Wire
Each set of 4 Pingg-Wires must be installed onto the End Post starting with the top wire and finishing on the bottom wire. This sequence will reduce the chance of over tensioning or having the previous wires go slack. Attach the wire to one end of that section. Walk to the other end while unspooling the Pingg-Wire. Cut the Pingg-Wire allowing enough length to thread through the mounting holes at this end. As you pull the Pingg-Wire through the first hole take up the slack then pull a further 1 or 2 cm to add a little tension to the Pingg-Wire. Do not over tension because it may reduce the life of the wire.

Mounting Holes
Pingg-Wires are threaded through the four mounting holes. The sequence is marked in the illustration. Push the Pingg-Wire through hole A. Then into hole B. Then C and finally D. While threading, make sure no bunching of the wires occurs so the finishing clips will sit neatly. Important: Please complete all wiring exactly as described without short cuts. If you simply tie the Pingg-Wire to one hole your system probably won't repel properly. It may also generate Radio/TV interference and will need to be redone properly!

Tree Clips & Washers
The Tree Clips and Washers are installed to give a neat visual finish to electrical connections. The Tree Clip is a firm fit into the hole. Press firmly! The Washer is a lighter press fit. We recommend you attach them immediately after installing each Pingg-Wire .

Bracket Clips
Bracket Clips have a slot through which you can pass the Pingg-Wire. These clips push into the holes in the Support Bracket and keep the four Pingg-Wires apart.

Insulated Cable
Insulated Cable connects the End Post to the next adjacent End Post so the puIse continues in the next section. In each End Post Kit you receive two insulated cables about 40cm long. The insulation has been pre-cut 3.5cm from either end to allow easy removal. When you remove this insulation pull off with a twisting motion. This will keep all the fine wires together and make it easy to thread into the End Post. Thread this wire through the four mounting holes using the same method as in point #4.
Customer Reviews
A great product, easy to install and worked exactly as expected. We can leave our cat outside all day when we go to work without a worry.

George
A great product, my cats and birds are safe from outsiders and I know where my cats are at all times it gives great peace of mind, all cat lovers should have one.

Averil
This worked a treat. My garden was ravaged by possums and I had tried every other alternative.( Alarms, sprays,owls etc)... My cat was tempted and jumped up once. She got a little zap, wasn't hurt but also hasn't tried again. So I would recommend this product, it allows pets to be contained safely and keeps the possums out. If you have possum issues, this is the product for you.

Vicki
Write your review
You must be logged in to post a review.