 Boundary Wire for Wireless Dog Electric Fence (100m)
---
Quality Australian Made Boundary Wire.
---
---
30-day money-back guarantee
Express shipping available
Boundary Wire for Long Trouble-Free Service
Quality Australian Made Boundary Wire
For nearly 20 years Sureguard has contracted an Australian manufacturer to make this premium quality dog fence boundary wire. We are absolutely certain you'll be happy with the performance whether it is buried or exposed to the harsh Australian sun and weather.
It's also compatible with the following well known brands of Wireless Dog Electric Fence:
PetSafe®, Sportdog Brand®, Hidden Fence®, DogWatch®, Innotek®, Invisible Fence®, Eyenimal®, etc.
Note: When ordering this Boundary Wire, please add a Boundary Wire Joiner Kit to your shopping cart.
Beware: Don't even consider the budget wires that are being promoted for Wireless Dog Containment systems. We've spoken with countless customers that literally ripped out their cheap budget wire after just a few months. Don't risk constant wire repairs and dogs escaping!
Do not use: Building wire, Uncoated PVC wire, Wire sizes smaller than 20 gauge or Steel wire.
Better by Sureguard...
Sureguard have selected polypropylene as the protective coating for its Boundary Wire. This durable material offers superior performance:
Excellent moisture resistance to allow direct burying of the cable.
High abrasion resistance.
Maximum UV resistance to allow long term exposure to the hot Australian sun.
Polypropylene is a hard coating resistant to ants and rodent attack.
Note: Some brands use polyethylene coating but polypropylene, although a little more expensive, is far stronger.
Sureguard have also selected multi-strand copper wire. This makes it easy to work with a get the job done quicker.
Get Your Customised Quotation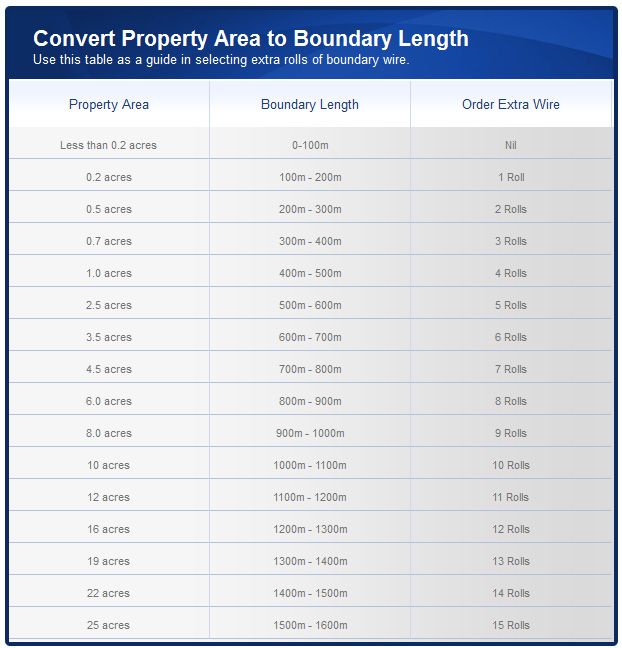 Your Sureguard Wireless Dog Electric Fence is a starter kit that includes one 100m roll of Boundary Wire.
Use this table to determine how much wire you need for your property.
Tip: Google search your address and from the map take a measurement of the perimeter off your display.
Spool Length: 100m (330ft).
Insulation: UV stabilised Polypropylene.
Copper Size: 20 Gauge with 7 strands of copper (easy to work with).
Does the radio collar boundary wire have to be buried?
No. Your options are: 1/ bury it, 2/ leave on the surface, or 3/ attach to an existing fence, wall or other structure. The installation method is completely up to you. If you decide to bury the wire then 5cm or more is sufficient but no more than 20cm. If you attach wire to a fence it must be no more than 20cm above ground level.
How do I place the boundary wire cross a driveway?
For hard surfaces such as concrete, pavers, or bitumen, simply run the wire across the surface inside some protective polythene pipe (irrigation pipe). Boundary Wire Tie-Down Pegs might be suitable for securing the pipe. Concrete driveways have an expansion joint every 5m or so. You can often place the wire into this joint. On gravel driveways bury the wire inside hard PVC conduit.
Can I attach two boundary wires to the transmitter?
No. Wireless Dog Fence systems use just one wire. Any boundary shape you want to create can generally be designed with that single wire. See our Boundary Design Examples section below.
Can I use an existing boundary wire installation of another brand?
Possibly, depending on its age, condition and what materials were used. The Sureguard Boundary Wire Transmitter constantly checks and reports Boundary Wire breaks and whether transmission strength is below specification. So, install the transmitter and allow it to test your existing boundary.
I've read elsewhere you need to round off corners to stop signal cancellation. What does Sureguard recommend?
Rounding the corners of your boundary give very little benefit. The signal does not cancel on a Sureguard collar. However, because the distance is governed by the strength of the radio signal, i.e. stronger signal is interpreted as closer distance, you will see an increased activation distance at corners because the collar is detecting radio signal from two directions at once. This means your dog has less area to access at corners. If this is a problem and you have an existing fence then about 2m to 4m from the corner you should ramp the boundary wire up to the top of the corner then ramp the wire down in the other direction. Test the activation distance on the collar and adjust the height of the wire at the corner until you get a more even activation distance.
I have a narrow walkway between the fence and house wall. How do I stop the collar activating there because the dog is right next to the wire?
Obviously, the collar will activate wherever you place the boundary wire. Narrow section as you describe can be difficult to handle. Example #6 below shows one method of cancelling the signal in selected areas. Of course, if there is no radio signal there you have effectively created an opening in the boundary.
Can I install two boundaries with two transmitters?
Yes, but obviously your dog won't be able to cross from one containment area to the other without your help. You would need to lead him across the boundaries using the same technique as taking your dog for a walk. (see Radio Collar product page FAQ for more details).
What are signal anomalies?
In some situations, large metal objects can become energised by the radio signal possibly causing your dog's collar to activate where you did not expect. This issue is governed by physics not a particular brand. It is more prevalant on small properties. Here are some common scenarios: Sheds: A boundary wire is run behind a shed resulting in the collar activating at the front of the shed. Trampolines: A Trampoline near the boundary wire absorbs the radio signal causing the  collar to trigger directly under its frame. Cars: If the car is parked next to the boundary wire your dog's collar may activate around the car. Steel structures: Steel framed houses or a steel staircase may also absorb the radio signal if within close enough to the boundary wire. Footings: A single wire run along a house wall can transmit its signal through the steel footings to doorways on the other side of the house. Solutions: All these situations can be fixed by either 1/ moving the boundary wire further away from the steel object, or 2/ reducing the activation distance of each collar or 3/ change to a doubled wire boundary rather than a simple one (see examples below).
How can I find a wire break?
Download instructions: How to locate a boundary wire break.
Boundary Design Examples
Your Wireless Dog Fence boundary can be as simple or intricate as you need. Here are just a few wiring techniques to consider.
Do you have areas where you don't want your Wireless Dog Fence Boundary Wire to activate your dogs collars? Sureguard also makes a Dual-Wire that creates a cancellation of the signal while still allowing the main signal to pass to other areas of your boundary. By deleting the signal, your dog's collar won't activate next to this Dual-Wire.
Note: In these examples we've located the Boundary Wire Transmitter at the house but it can generally be installed anywhere close to the boundary. No matter what design you employ, the boundary is formed by only ONE piece of wire and each end is connected to the Boundary Wire Transmitter.
KEY:

Yellow represents the boundary wire and red the radio signal.

This represents the Dual-Wire which is twisted together.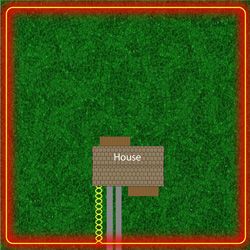 Simple Boundary
1/ Simple boundary design showing a single wire running around the whole property. Notice no signal emitted from the Dual-Wire. Activation distance is constant on each side of the boundary.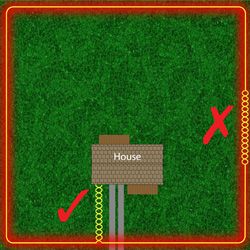 Incorrect Usage
2/ This example shows a common mistake when using  Dual-Wire to cancel the signal on the main boundary. It is incorrect because the same signal is being passed in each  wire of the Dual-Wire. No cancellation happens. See Example 6 for the correct method.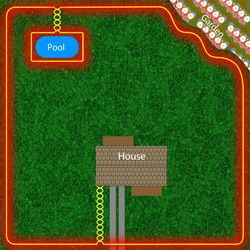 Inner Boundary
3/ Notice the Dual-Wire used to divert signal from the main boundary around a pool area. Your dog's radio collar will now activate around the pool as well as the boundary. Your dog can still walk between the fence and pool and is able to walk across the Dual-Wire.
Frontage Only
4/ To protect a single boundary, install a long thin rectangle as illustrated. The width of the rectangle is a minimum 30cm but can be up to 2m should you need greater activation distance. This design may also be used to protect an open gateway, in which case we suggest the rectangle be at least 2m beyond the gate on either side (to stop your dog sneaking past the ends of the gate) and at least 1m apart.
For example, a typical gate is 4m wide. The minimum rectangle size is 4m + 2m + 2m = 8m by 1m or more.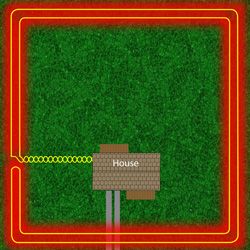 Small Properties
5/ When the minimum dimension of your containment area gets around 10-20m, you must install a doubled wire as illustrated. This design quickly reduces the signal distance to avoid false triggering within the containment area.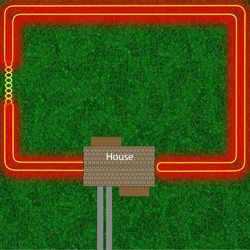 Cancel Boundary
6/ Use the Dual-Wire as illustrated to cancel signal on the boundary.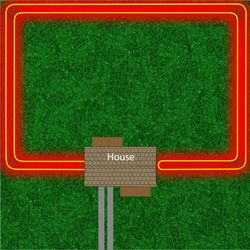 Backyard Only
7/ Doubled wire confines your dogs to the backyard while still allowing your dogs at the back door.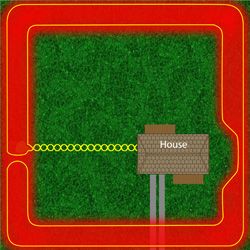 Vary Distances
8/ If you need to reduce the activation distance in certain areas then install the doubled wire boundary and reduce the wire separation. The closer the separation the shorter the activation distance.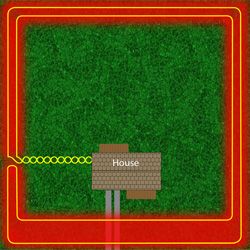 Vary Distances
9/ In this example the frontage has a larger activation distance because the wires are further apart.
Customer Reviews
Have tried cheaper versions which was a nightmare. This product is strong and dependable and have no hesitation in recommending it.

Jim
Auzzie wiring - light weight, strong and simple to unroll - the yellow colour is a good visual reminder when using the whipper snipper around the property.

Jo