Boundary Training Flags (20pc)
---
Help your dogs learn their new boundary.
---
30-day money-back guarantee
Express shipping available
Visual Dog Training Aid
Boundary Flags
Your new Wireless Dog Electric Fence will be up and running in a short time. However, it's important that your dog understands the location of the invisible barrier set by the hidden boundary wire. Some initial training is needed to "show" your dog his new limits. Training flags are a key element used to identify this invisible boundary. During training you will draw your dog's attention to the flags. This will help your dog know his new limits. The training method is explained in the Sureguard User Instructions. The flags are left in place for a few weeks then gradually removed.
NOTE: You only need flags where the boundary is visually open, for example, open lawn areas, un-fenced sections, garden beds, etc. Flags are placed every 1m to 2m apart. If your boundary wire runs along an existing fence then you already have something physical to train to.
A packet of 20 flags is included with your electric dog fence starter kit. Add more packets, as required, to fully mark your boundary.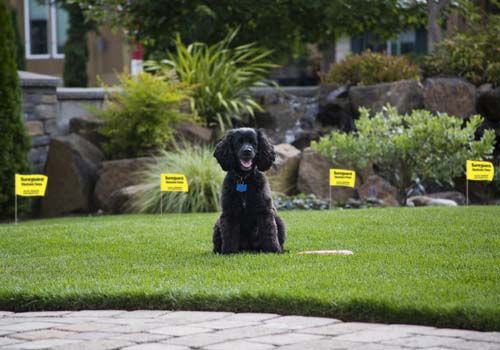 Better by Sureguard...
Sureguard Training Flags are a premium product designed to help you get the job done properly.
Outstanding Features:
Larger flag and longer stem for greater visibility at distance.

Strong wooden stems makes insertion into soil easy.

Durable polyester fabric allows flags to be used again whenever training is needed.
Specifications:
Flag size:  160 x 105mm

Stem length: 300mm
Sureguard Training Flags are compatible with the following brands of Wireless Dog Electric Fence:
PetSafe®, Sportdog Brand®, Hidden Fence®, DogWatch®, Innotek®, Invisible Fence®, Eyenimal®, etc.