Sureguard Snake Repellents Available from Bunnings
Don't wait to see a snake*
Before visiting your local Bunnings store, please check the Bunnings website to see whether they have stock. Make sure you select your local Bunnings store before searching on the Bunnings website for "Sureguard".
* A Registered Trademark.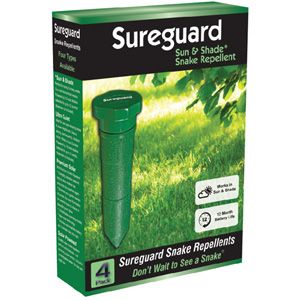 Sun & Shade Snake Repellent (4-Pack)
Does not require sunlight. Works in sun and shade.
Powered by two D-Cell Alkaline batteries for up to 12 months running time.
Place multiple repellents up to 25m apart.