Sureguard Snake Repellents Available from Bunnings
Don't wait to see a snake*
You can purchase the following 2 models at your local Bunnings Warehouse or Store.
Visit Bunnings Special Orders Department for more information.
Take a printed copy of this page for reference and quote account SUR060.
* A Registered Trademark.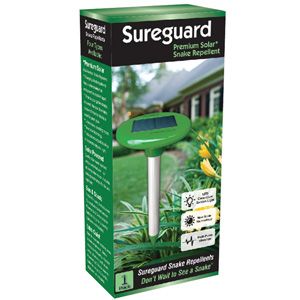 Solar Snake Repellent with Multi-Pulse Vibration and Garden Light
Quality, full featured snake repellent.
Multi-Pulse vibration pattern changes through the week. Helps deter snakes that encounter the repellent again.
LED garden night light.
3-Switchable operating modes including ON/OFF.
New improved higher power solar components.
Includes internal AA rechargeable battery for day and night use.
Battery easy to replace.
Place multiple repellents up to 25m apart.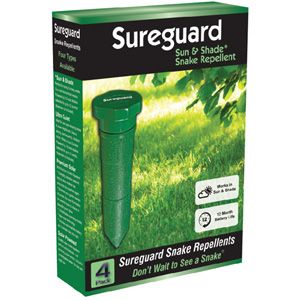 Sun & Shade Snake Repellent (4-Pack)
Does not require sunlight. Works in sun and shade.
Powered by two D-Cell Alkaline batteries for up to 12 months running time.
Place multiple repellents up to 25m apart.